This article describes a Pixel Gun World content. If you are looking for the same content in Pixel Gun 3D, see Armory (PG3D).

The Shop (also called the Armory) is a feature in Pixel Gun World which consists of a wide variety of content that can be bought by using

, including weapons, armor and others.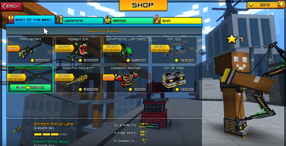 Overview
Button
It is a yellow rectangle written "SHOP" in black on the left of one part on the rectangle. On the left of the entire rectangle, there is a green open bag that exposes Ammo pick-ups.
When you hover the cursor to the button, a part of the Ammo pick-ups go inside the bag.
Menu
It appears as a menu providing the main categories, on the top. The main category buttons appear in different colors. The subcategories are found on the top of the menu, but under the main categories. Under them, there is a variety of icons containing the content under specific categories. When hovering on a specific icon, it will display its essential information (statistics and attributes). At the bottom of the menu, there is a Comparison feature. Click on the link for the full article of the feature.
Menu
The Shop has 4 sections:
The Best of the Best section, which consists of powerful weapons, powerful wear, event wear and event weapons.
The Weapons section, which is the primary source of buying offense. It contains 6 equipment slots:
The Armor (Wear) section, which consists of various accessories and armor for boosting gameplay, which are mainly used to show off in a match. It contains 4 equipment slots:
For the link to Hats, Capes and Boots in one category, see Accessories.
The Skins section, which consists of various pre-made skins and a skin creator. You can only equip one skin at a time.
Removed Sections
The Armory had different sections, but they were removed.
Note: Gadgets were not introduced in Pixel Gun World.
Trivia
The Armory has been changed several times:

Pixel Gun World was created with the Pixel Gun 3D Armory UI.
In the 2.0.0 update, the Shop UI has modified into the UI similar to the Pixel Gun 3D armory UI in the recent updates.

Gear was entirely removed from the Armory at the start of the Open Beta Test, and instead, the gear was used as pick-ups (only the Frag Grenade) while 3 other gear items were obtained from the Bingo Chest.
The Sniper category for weapons was introduced in the 2.0.0 update.
Other
Pixel Gun 3D
Pixel Gun World