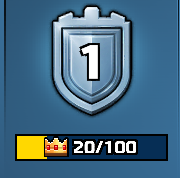 The Battle Crowns System is a point-based system used in the Battle Pass for progressing into higher levels of the pass.
Appearance
The crowns are golden yellow, with three red gem stones embedded.
Use
Battle Crowns are used for progressing to higher levels in the battle pass. A user must collect a number of battle crowns in order to reach the next level and obtain different rewards.
Obtaining
Battle Crowns can be obtained from completing challenges the pass offers, these challenges can including killing X amount of players, winning X amount of games in a certain gamemode, or firing an X amount of bullets in a weapon category. In addition, Battle Crowns are offered as a daily reward when a user taps on the Battle Pass button, aswell as a reward from the Lucky Chest.
Reseting
The Battle Crowns progress used to resets every 30 days once a new Battle Pass season happens. You do not recieve any compensation for crowns earned after the last tier has been unlocked.However this was changed at some point
Other
Pixel Gun 3D
Pixel Gun World