| | | | |
| --- | --- | --- | --- |
| | | This is removed content. It is no longer available in Pixel Gun 3D. | |
| | | | | |
| --- | --- | --- | --- | --- |
| | | | This article is a featured article, which means it is identified as one of the best articles produced by the Pixel Gun Wiki. | |

This article describes the Battle Pass. For the newer variant, see Pixel Pass.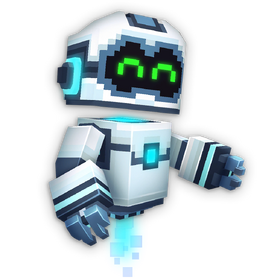 The Battle Pass, or commonly abbreviated as the BP, was a task and reward system feature that was introduced in the 15.2.0 update. It is unlocked at 60 experience.
Overview
When the player opens the Battle Pass menu, a helpful robot called Robb-e will provide them some challenges. Sometimes, he'll be wearing an outfit to commemorate the season. When they complete those challenges, they will get a number of battle experience, which can be used to level up and give possibilities to accumulate rewards.
To get those rewards, the player must buy the pass with Battle Credits, which can be obtained from the Lucky Chest, Black Market, or normal battles, but best at Brawls. The player can get a Battle Pass upgrade if they have enough Battle Credits. If they did not buy the Battle Pass upgrade, the player will get 1 reward per level up of the Battle Pass upgrade, with the experience being Battle Crowns. If the player bought the Battle Pass upgrade, the player will get 2 per level up.
Battle Pass Levels
With the exception of the Phoenix Season and the Cyber Season(which has 50 tiers) each Battle Pass has 30 levels known as tiers. Upon reaching tier 10 in a Battle Pass, a player is required to obtain 150 Battle Crowns to level up instead of 100, and upon reaching level 20 a player must earn 200 Battle Crowns to level up. To earn Battle Crowns, a player completes some challenges.
Changelog
NOTE: The information in this section logs only changes with the feature itself and the bug fixes that were applied to it, not the changes of the season.
15.2.0
15.4.0
The level count was reduced from 50 to 30.
All tiers contain a reward that can be kept.
17.7.0
A bug with an empty Battle Pass was fixed.
21.7.0
Tasks and Tips
Main article: Battle Pass Tasks and Tips
Battle Pass Seasons
Removed Content
Weapons
Note that the weapons listed above were completely removed from the game from every player, not just removed from the Armory or after the end of a Battle Pass season.
Maps
Wear
Gadgets/Gears/Potions
Modes
Craft Items
Achievements
Other
Pixel Gun World content