The Big Head Potion is a sandbox-exclusive gear item introduced in the 10.1.0 update.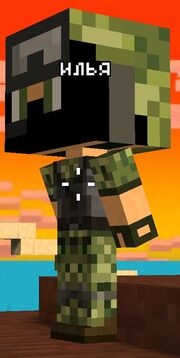 Appearance
It looks like a Stealth Potion, but with purple liquid inside. There is also a cork featuring the Newbie's head mounted on top of the potion, but with a bigger size.
Use
Drinking this potion will turn the user's head larger than normal ones, similar to the Head Enlargement Attribute (

) . Although this lasts longer than the Weapon effect.
Cost
Trivia
Upon use, the neck of the player is visible.
The Big Head Potion is the Sandbox version of the Stealth Potion.
It used to be obtainable from the Lucky Chest.

However, in the 12.0.0 update, it was removed from the Lucky Chest, along with the other sandbox gear.
There are some weapons like Tiny Resizer, Zap Blaster, and the Shell Bubbler that also has the head growing ability. However, their head enlargement ability has a much shorter time than the big head potion's.
Effect Icon:
Minigame Content
Campaign
Sandbox
Arena
Extreme Run
Parkour Challenge
Removed Content
Weapons
Note that the weapons listed above were completely removed from the game from every player, not just removed from the Armory or after the end of a Battle Pass season.
Maps
Wear
Gadgets/Gears/Potions
Modes
Craft Items
Achievements
Other
Pixel Gun World content