| | | | |
| --- | --- | --- | --- |
| | | This content is exclusive to Pixel Gun World. It isn't in Pixel Gun 3D! | |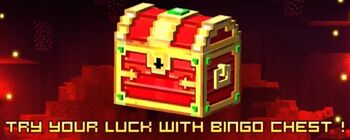 The Bingo Chest is a feature added to Pixel Gun World in the Superheroes Update. The Bingo Chest gives to the players access to a large variety of items and weapons. Some of them are obtainable exclusively by opening Bingo Chests.
Appearance
The Bingo Chest is a red-orange chest with 4 tiny emeralds on each side of the lower part of the chest. It has a gold lock, a couple of golden "arrows" on the main side and on the center of the left and right side, there are its golden holders. On the topper part, it indicates a golden encrust on the entirety of the middle of the top part and on the center, there is a medium-sized emerald. It has a bold and golden outline on the entire chest.
Use
You can open it for free once a day or unlimited quantity of times but you will have to pay 500 coins for a try in this case.
Available Items
In Bingo Chest you can find:
Weapons and skins of last events, which are no longer available in the store.
Weapons that can be found both in the Armory and the Bingo Chest.
Temporary weapons – you can try and evaluate a weapon before purchasing.
Weapons that can be found only in the Bingo Chest and obtained temporarily.
Gear that can be used in matches and exclusively obtained from the Bingo Chest.
Cost
The Bingo Chest can be opened for free every 24 hours. It is required to pay 500

in order to use the Bingo Chest when it cannot be opened for free.
Gallery
Trivia
The Bingo Chest was once an event, but for an odd reason, it is permanently available in the main menu.
Once you own a temporary weapon, it won't be shown in the bingo chest slots, unless if your temporary weapon expires.
The PG3D version is called "Lucky Chest".
Despite RiliSoft saying "it is impossible to buy these 5 weapons in the store!", there was an event which temporarily appeared twice, indicating that the players have the chance to permanently buy these 5 weapons.
Other
Pixel Gun 3D
Pixel Gun World