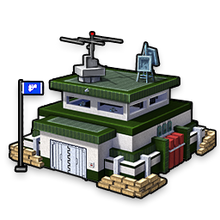 The Control Center is a Base introduced in the 12.0.0 update. It is also a base in the Clan Fort, under the name Military Base.
Appearance
It is a large, beige military base with some green rooftops, some stone and two towers. It has an iron gate, a bunch of windows and a large beacon implanted outside. It also has a blue flag with a white Pixel Gun on it.
Use
Craft
It is used to tremendously increase the chance of ignored damage.
Fort
It replaces the original Fort with the control center.
Trivia
It looks like the full upgrade of the Base Camp and the successor of the Command Post.
For unknown reasons, bases like the Control Center cannot be removed.
Craft Items
Buildings
Bases
Gates
Fences
Devices
Pet Houses
Decorations
Terrains
Roads
Decors
Mini Decors
Backgrounds
Statics
Dynamics
Skies & Weathers
Fort Objects
Defense
Turrets
Artillery
Traps
Monsters
Support
Artillery
Decorations
Bases
Gates
Walls
Field
Road
Sky
Moat
Removed
Ultimate
Rams
Background
Uncategorized