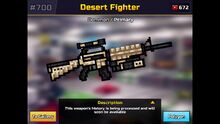 Are you looking for the following counterparts: the multiplayer-usable Combat Rifle or the Campaign and Deadly Games exclusive Army Rifle?
The Desert Fighter is a Primary weapon introduced in the 17.4.0 update. It was originally a weapon obtainable for normal players for a very short amount of time, but now it is unobtainable.
Description
It is an AR-type weapon. This weapon like most weapons in the Gallery, has no Gallery description regarding the weapons backstory in the Pixel Gun universe. This weapon was released to everyone at a certain time for around 5 minutes, therefore, not many people were able to get it, nor the weapon got any traction from most players.
Appearance
This weapon is based on the real-life M16A3 (and the earlier PG3D Combat Rifle (PG3D) and more especially, the Army Rifle) with an added scope resembling an ACOG scope and with an under-barrel grenade launcher attachment that likewise with other weapons, cannot be used. The color is also a desert camouflage that is applied to the grenade launcher as well as the optics scope, unlike the former two weapons and it uses darker accents.
Performance
The weapon's behavior is exactly to a Combat Rifle/Army Rifle in terms of performance, although it has extremely low ammo capacity and its damage isn't as good as other weapons.
Equipment Setups
It is not a great weapon because of its low capacity. Nonetheless, it is a 20 shot kill and is good when practicing aim.
Changelog
This weapon was made available as a drop in the Battle Royale gamemode.
Mystery
The weapon wasn't known around the time it was briefly available until it gained notoriety after popular YouTuber RunningBack02 covered the weapon in a video. Due to no public announcement from Cubic.Games regarding the weapons purpose at the time, many rumors sprung about what the weapon is made for, with one widely circulated rumor stating that it was a hacker detector. Some time later, a developer confirmed this was used to catch hackers.[1]
Trivia
Like the Combat Rifle and the Army Rifle, this weapon is based on the M16A3 assault rifle.
This is the first weapon to possibly be created for detecting hackers. However, upon its release, it was a normally obtainable weapon for a very short amount of time but now players think it became a hacker detector weapon after that.

It is unknown if players who legitimately (or accidentally) have the weapon prior to its removal from the Armory kept and remained unbanned.

In the 21.7 update, this weapon was made available as a weapon drop in the Battle Royale game mode.

This weapon's icon in Battle Royale is blue, which means it is a

Rare

grade weapon. However, it was previously known that its actual grade was Common.
Despite being unobtainable in normal play besides Battle Royale it can be used in the Tournament game mode.

The weapons kill icon shows it has a 20 round mag like the First M16/M16A1 Assault Rifle, however the weapons actual mesh still uses Combat Rifles 30 round mag.
See Also