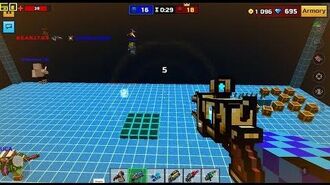 The Developer Scene is a hidden map used by the developers of Pixel Gun 3D. It is not available in the Map Selection from the player's perspective, making it inaccessible to them.
Appearance
It looks like a cube delimited by semi-invisible barriers. The floor and the edges are composed of blue blocks. The corners have dark blue cube-stacked columns. In the centre of the map, there appears to be multiple Chests.
Trivia
It was formerly called the "Developer's Lab".
It was leaked as a map that was going to be introduced in the 12.1.0 update, available in many modes.
Despite it being included in the 12.2.1 assets, it wasn't officially released. The same applied to the Facility map.

However, in the 12.5.0 update, Facility was released, but this map hasn't been released, yet.

It is possible that Cubic.Games was using this map as a testing map for Gadgets, new weapons, and Pets with other developers.
JustSpawn has access to this map.
Pics