The Dog is a Common Pet added in the 11.1.0 update.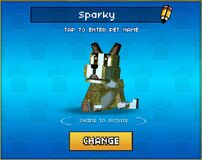 Appearance
This pet is a dog that resembles a Beagle. It has dark brown eyes and brown paws.
Strategy
Tips
A level 1 Dog does low damage and has minimal health, but it is hard to notice and is therefore able to finish off severely weakened enemies.
Your Dog teleports to you when you are far away so you don't have to worry about it getting "lost" when you rocket jump.
Counters
Shoot the Dog with a low damage weapon (e.g. Hellraiser, Fast Death) as shooting it with a high-damage weapon (e.g. Prototype) is not worth it.
Watch out for the Dog with an area damage weapon if you have low health and you know your enemy has one.
Stats
| Level | Speed | Respawn | Upgrade Cost | Training Points Required |
| --- | --- | --- | --- | --- |
| 1 | 4 | 15 | Default | None |
| 2 | 4 | 15 | 30 | 2 |
| 3 | 4 | 15 | 70 | 4 |
| 4 | 4 | 15 | 110 | 8 |
| 5 | 4 | 15 | 150 | 16 |
| 6 | 4 | 15 | 80 | 32 |
| 7 | 4 | 15 | 160 | 64 |
| 8 | 4 | 15 | 240 | 128 |
Trivia
It's appearance was changed in the 11.2.0 update