Description
The Double Headed Foot Soldier is a two-headed enemy zombie in the Dead City Raid map. It is a combination of two zombie types stuck together, both enemy zombies elsewhere. It also appears on the third wave in the monster siege in Clan Wars.
Appearance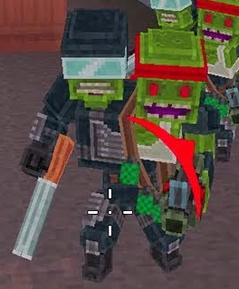 The two zombie soldiers both have different weapons on each of the side of the h
One seems to have an grenade launcher and the other with a double-barreled shotgun, though different in appearance from the Double-barreled Shotgun used by players.
Tips
During Monster Siege, be careful of their long-range attacks, as they are able to destroy turrets from far away without taking that much damage.
Community content is available under
CC-BY-SA
unless otherwise noted.