This article describes a Pixel Gun World content. If you are looking for the same content in Pixel Gun World, see Experience (PG3D).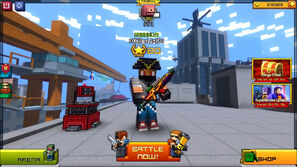 Experience is needed to level up your character. Doing so, you will be awarded 

 and

(see here for more info). You can earn
by winning modes, which is the best way to earn them. Also, the higher the level is, the more weapons and upgrades are unlocked in the Armory. Also, the experience system is multiplied by 10 (e.g. 1

in PG3D is 10
in PGW).
Currently, the maximum level that can be reached is level 20, where the player will no longer be able to acquire
, and hence will not be able to receive any further level-up rewards.
Other
Pixel Gun 3D
Pixel Gun World