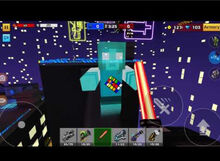 The Ghost Girl was an Easter egg found only in the 15.9.0 update.
Description
It was a hint of the 4th Campaign world, Virtual Worlds, before the world was introduced into the game. It was found on edges of maps like Parkour City 3018 and Night Christmas Town.
Appearance
It appeared to be a blue-ghost version of the Female Survivor. The Ghost Girl was holding a Rubik's cube.
Trivia
Even though Female Survivor appeared as a ghost, it was never shown in the Story Comic that she was a ghost (or how she became as such), unlike Newbie.
The Rubik's cube only indicated the presence of the boss Cubic.
Other
Pixel Gun 3D
Pixel Gun World