The Infected Hazmat is an rare enemy found in the Area 52 level of Pixelated World. 
Stats
Damage: 1

Health: 9

Speed: Moderate
Behavior
It will shamble towards you, only using one leg, and dragging the other.
Levels
Appearance
It is an infected individual in a yellow hazmat suit with a blue face under a clear visor with large blood red eyes and additional blood stains on its suit.
Trivia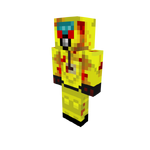 It is similar to the Blue Zombie because of its similar blue-toned face/skin.
The Infected Hazmat looks similar to Dead Trigger 2's Scienfist with the latter being both undead and donning hazmat suits.
It might have inhaled the infection through the air rather than being bitten, due to its hazmat suit covering its entire human body.
Enemies
Bosses
Monsters
Community content is available under
CC-BY-SA
unless otherwise noted.