"
Let's play rock-pixel-paper!
"

—descripition from Gallery
Just A Hand is a Melee "weapon" introduced in the 10.1.0 update. It has no upgrades and can only be used in Sandbox.
Description
It is an unarmed "weapon" meant for non-combat uses or simply for non-item interactions with other players in Sandbox. Its arms seem to bend slightly backward in a third person perspective.
Appearance
In the armory, its icon appears as a hand with a black glove (based on the Newbie skin or Default), but when using it, the hand matches the chosen skin of the player. When idle, nothing is shown on the player's perspective. When "attacking" however, the player's hand briefly appears as it shakes with it, it makes a sway sound when it does.
Performance
As mentioned earlier, Just A Hand does not have any combat use other than interaction. It cannot be used in-game modes or minigames other than Sandbox due to its harmless nature.
Strategy
Tips
While the weapon does not have any combat use, it can be used to take in-game screenshots when not attacking with it as it does not occupy the lower portion of the screen.
Changelog
Just A Hand is added in the game, along with Sandbox mode. However, the info screen was buggy at that time (see Trivia below).
Because of the buggy nature of the info screen, the button for it has been removed.
Later versions
Weapon "stats" changed, but they are mostly visual.
 Tapping the Just A Hand icon on the Armory screen will do nothing.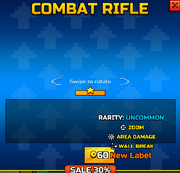 Trivia
It is the only weapon to ever lack a Gallery entry.
Technically, it is the only "weapon" in-game with 0 efficiency. Although it is shown to have efficiency of 7.
The "weapon" only shown in the Armory if a player checks it in a Sandbox server.
It is the only Default "weapon" in Sandbox.
In prior versions to 11.4.0, if a player checks the info of this "weapon", the results will be glitchy as pictured to the right. Here are the abnormal things in which it indicates:

It is called the "COMBAT RIFLE", instead of "Just A Hand".
It doesn't indicate the weapon, nor any other weapon.
It does not show any statistic headings, except for the Grade heading.
It says "RARITY:

UNCOMMON

", instead of "Grade:

Uncommon

".
It says that it has an unspecified zoom, a blast radius, and wall-break.
Grade and attributes are all caps and are placed improperly.
It says in red-orange "New Label".
It says that the Just A Hand costs 60 on a 30% discount. However, there is no buy button.

As of 17.3.0, this weapon is useable through a glitch in Reworked Quiet Island and surprisingly it actually does damage, however, it does the exact same damage as Combat Knife without any modules.
This weapon exists in the Gallery, but it is unlisted. Its number is 121.
Strangely, it has 65 mobility, which is lower than a lot of weapons which doesn't make sense at all.
Gallery
Minigame Content
Campaign
Sandbox
Arena
Extreme Run
Parkour Challenge