Just A Hand is a Melee "weapon" introduced in the 10.1.0 update. It has no upgrades and can only be used in Sandbox.
Appearance
It is a hand with a black glove in the armory, but when using it, the hand matches the one of your chosen skin.
Use
It is not a usable weapon in any mode or minigame, other than Sandbox, since it doesn't inflict any damage. When a player equips it, nothing is shown but the avatar without any items in their hands. It is meant to be a way to interact with other players, just like the other weapons made for Sandbox. When the user attacks with it, it makes a punching sound with a player's hand showing for less than a second.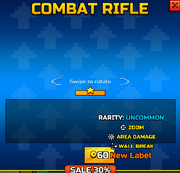 Trivia
It is the only "weapon" in-game with 0 lethality.
It is only shown in the Armory if a player checks it in a Sandbox server.
It is the only Default weapon in Sandbox.
Despite not holding anything, this only has 120 mobility, slower than weapons such as the Dark Force Saber Up2.
It used to be the melee weapon in the game with fast attack speed that was a Single Shots-based weapon until the Chainsaw Sword was introduced with a rate of fire of 96, one point higher than Just A Hand.
If a player checks the info of this weapon, the results will be glitchy as pictured to the right. Here are the abnormal things in which it indicates:

It is called the "COMBAT RIFLE", instead of "Just A Hand".
It doesn't indicate the weapon, nor any other weapon.
It does not show any statistic headings, except for the Grade heading.
It says "RARITY:

UNCOMMON

", instead of "Grade:

Uncommon

".
It says that it has an unspecified zoom, a blast radius, and wall break.
Grade and attributes are all caps and are placed improperly.
It says in red-orange "New Label".
It says that the Just A Hand costs 60 on a 30% discount. However, there is no buy button.

In 11.4.0 update. The info button has been removed from it in the Armory.
Of all Default weapons, aside from Double Barreled Shotgun, this has the highest mobility, scoring at 120.
Community content is available under
CC-BY-SA
unless otherwise noted.