The Lance Soul Card is a Heavy weapon released in the 17.6.0 update.
Description
It is a green soul card resembling a 3-eyed monster of some kind. It deals a very high amount of damage, has a slow fire rate, average capacity for a slow firing heavy, and low mobility.
Appearance
It appears to be a green card which the player has in their hands, and has a lance gripped hand like device close to one of the player's hands. On the top edge, there is a 3-eyed mask with a golden crown, and with 3 spikes on each side. When this weapon is reloaded, the lance and the monster disappear while the user moves the card in a circle. Then when it is done, the monster and lance come back to the user.
Performance
It fires green energy that explodes on impact with a wall or floor, but not enemy players, though the shot will pierce them. If it explodes next to an enemy, it is a one-shot. If it pierces, It is a two-shot.
Although the fire rate is stated as 67, the actual fire rate is slower. It is about one shot every 1.5 seconds, similar to the Anti-Champion rifle.
It has Fixed Delay. This means that once the player switches from any weapon to this weapon, the Lance Soul Card will always have a delay lasting around half of a second.
Strategy
Tips
Use the Singular Grenade to get people pulled into 1 place, then use this weapon to get multiple kills.
When using this card, try to shoot in a place where 4 rivals are to get a kill streak and gain more points, especially in Deathmatch.
The attribute is great for dealing damage to a long line of enemies.
The attribute can be useful for dealing additional damage to enemies.
This weapon's bullet can pierce through the Energy shield of the Sly Wolf, with the huge area damage radius, along with the piercing attribute, making it a good weapon to kill Sly Wolf users.
This weapon works well in a clan Monster Siege, as it can take out multiple monsters in a single shot.
This weapon has fixed delay, meaning you will always get a delay when switching to it. Keep this in mind when 3-cat spamming with it.
This can rival many cluster bomb weapons as its area damage is just as large. But keep this in mind when using it in tight spaces. It does self damage.
Counters
Use the Time Machine to get behind a player with this weapon, as it has large area damage.
Use the Pulling Sucker Gun to get past the players with this weapon to where the huge area damage won't effect you.
Avoid tight corridors where you can easily get killed by these users.
Extremely hard to counter due to its extremely fast travel time and area damage radius.
Eliminate the user before they eliminate you because it is very dangerous to ignore a user of this weapon.
Recommended Maps
Equipment Setups
Bring a long-ranged sniper rifle because this weapon's projectiles have travel time, making it unreliable for long range combat.
Changelog
17.6.0
17.8.1
This weapon got its damage decreased by 23%.
21.1.0
22.1
Unknown bug or buff making this weapon deal more area damage than direct hit damage, along with its poison buffed.
Trivia
It is one of the three Soul Cards, with the others being the Bow Soul Card and the Sword Soul Card.

They are part of the Arcane Summoner Event Set, which explains enough to this small category of weapons.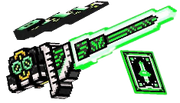 Heavy