| | | | |
| --- | --- | --- | --- |
| | | This is removed content. It is no longer available in Pixel Gun 3D. | |
Not to be confused with it's counterpart: the Winner Chest, as well as the Veteran Chest.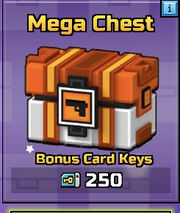 The Mega Chest is one of the 4 chests in the Super Lottery event introduced in the 18.0.0 update and removed in the 18.1.0 update
Appearance
It is a red and orange chest with some brown details on its left and right sides and golden bars. The bottom part of the chest is white with a brown rectangle on the sides. There's also an orange square with dark edges and a black pistol icon on it in the chest's center.
Use
It is used to earn prizes, including currencies, weapons, weapon parts, and weapon upgrades.
Prizes
200-300 coins
Free Weapon Upgrades
Weapon Parts
Gems
Coupons
Always 200 card keys
Weapons
Obtaining
Super Lottery
Buying with 220 in the Chest Treasury
Other ways
Weapons
Trivia
This was one of the 4 Super Lottery event chests. The other three are the Small Chest, the King Chest, and the Event Chest.
This chest's former version was the Winner Chest, which was removed in the 18.0.0 update and later brought back in the 18.1.0 update
It got severely nerfed in the 18.0.2 update.

The chests were fully removed in the 18.1.0 update and the old Lottery chests were added back.

In the Cyber Gang Lottery and future lotteries, the design of these chests were used instead of the normal designs, however they didn't function the same nor had the same loot.
The 21.3.0 Veteran Chest inherited it's appearance until it was changed in the 21.4.0 update.
Other
Pixel Gun 3D
Pixel Gun World
Removed Content
Weapons
Note that the weapons listed above were completely removed from the game from every player, not just removed from the Armory or after the end of a Battle Pass season.
Maps
Wear
Gadgets/Gears/Potions
Modes
Craft Items
Achievements
Other
Pixel Gun World content