The Pixel Gun 3D Revolution (or the May 15 Revolution) was a major change in the game's developers, starting from May 15 2018. This is a major event to the Pixel Gun 3D community as it constitutes a drastic alteration in the style of the game. It will remain a significant event in the Pixel Gun 3D History. However, some of the changes remain questionable.
May 15th, 2018
On May 15, 2018, the Developer of Pixel Gun 3D, Cubic Games announced the following on their social networking websites, mainly Facebook.
The post (revised):
"Friends! We want to tell you important news! 
Pixel Gun will no longer suffer because of managers who don't listen to players. Today, we had a revolution in our office!
People who shouldn't develop games left us today, and in the team remained only the gamers like you! This is a victory!

Very soon, we will be able to return all the cool things that you liked, and also add something new, about which we have been asked for a long time. Now, we are preparing to share our plans and discuss with you the future of the game. Become a part of the revolution and together, we will return the good-old Pixel Gun and make it even better!

Let's #MakePixelGunGreatAgain"
This came as a beacon of hope to players who have suffered under the pay-to-win system of Pixel Gun 3D. From the picture, it can be inferred that the new Developers are willing to listen to the voice of the community and are going to rectify the anti-hack-ban system.
If one looks at the page, they could see that Pixel Gun 3D is planning to bring back old removed maps such as the Science Lab, Secret Base, Blockmart, and Four Seasons, as well as Helmets and other removed content. They also plan to work on balancing the guns in the armory and making the game, in general, skill-based, which is what the fans desperately requested, instead of based on how much money the player has spent.
May 17th
On May 17, Pixel Gun 3D announced that they would be incorporating a "Battle Royale" system into the game, and they would add in new chapters for the Campaign.
This is what the developers said (revised):
"Hello, Friends! Now when our hands-free, we've made every effort to give to the game on the things that you've wanted. Today, we will talk about a couple of them. There were no new modes for a long time in the game. You gave us a lot of awesome ideas, but about one mode you've asked more often: Battle Royale. This will be the largest map in the history of the game and absolutely incredible proportions!
The third chapter of the Campaign ended at the most interesting moment. Soon, you will find out what'll happen next!
We still have many plans. For example, give players more gems and add private maps to the Sandbox. But about this in the following announcements. To make the wait for changes not boring, we'll start a Sniper Tournament again!"
From the picture, it can be inferred that the new Battle Royale map resembles a combination of all the maps in the Campaign, Pixelated World. This update came with excellent news to the majority of Pixel Gun 3D's players as Battle Royale games are very popular, famous examples being Fortnite, PlayerUnkown's Battlegrounds and Rules of Survival.
As for the expected new Campaign maps, most people begged for them, as it was a tradition for the Developers to release a new world every 1.5 years. The last map that was released, the Crossed Worlds, was released in June 2015, almost 4 years from now. They also said that they will give players more gems, along with adding more maps to Sandbox.
May 22nd, 2018
On May 22, 2018, the Developers announced that "big changes" were going to be applied to Pixel Gun 3D. This is what they said (revised):
"Hello, friends! We've already drawn up an action plan and started to work.
First, we'll remove weapons with homing missiles, nerf OP (overpowered) guns, enable players to draw skins for weapons, as well as alter the prices and the constant shortage of gems.
In Sandbox, we will add new maps, and the number of sets will be increased. In addition, quests and old weapons will be returned into the game.
In the technical area, the ability to transfer progress between platforms will be added and the application size will be decreased. Also, the anti-cheat system will be changed.
This is not all, but we want to be sure that we haven't forgotten anything. Therefore, we ask everyone to share their thoughts on what else to add to the game.
It's super important, and we really appreciate your support!
#MakePixelGunGreatAgain"

They've declared that they would refine and revamp the Sandbox system, balance the many overpowered guns in PG3D, especially the homing ones such as the Smart Bullet Bazooka, add a new chapter of the Campaign and the Battle Royale system. They also said that they would decrease the storage size of the game.
May 26th, 2018
The update that was long-awaited had finally arrived. Pixel Gun 3D announced:
"It's time for BIG changes in Royal 15.0.0 update! For iOS and Amazon users update will be available in one week.
NEW MODE
- Finally added a Battle Royale mode! Huge map, a lot of rivals and a deadly zone
NEW EVENTS
- Win the Royal Set and become the king of battlefield!
- Try the new map in updated Sniper Tournament
RETURN OF FEATURES
- PETS moved to the Armory
- Egg Delivery is again available in lobby
- Tournament reverted to previous style. Shields changed to Trophies
OTHER CHANGES
- Block Crash moved to Mini Games
- Love Island returned to Sandbox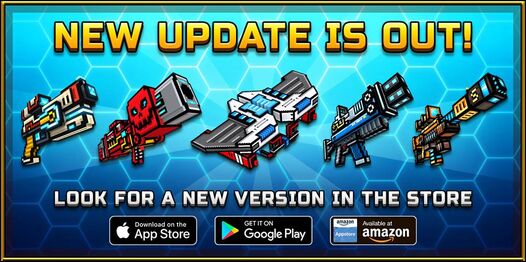 #MakePixelGunGreatAgain"
In conclusion, this list sums up everything that was added/changed/removed in the game:
 They added in more arguably OP guns (Eventually got balanced off).
 The 'Royal Event' is introduced for the first time.
 Battle Royale mode (Beta) added into the game. 30 players per match.
 Reverted to old league system. Champion League unlocks at 3600 trophies.
 Pets added back to armory, Super Incubator returned.
 Still no new campaign.
 Anti-hack system slightly improved.
 Block crash moved to Minigames, and the Love Island map has been returned to Sandbox mode.
 A few glitches have been patched.
May 30th, 2018
On May 30, the developers did a map voting asking players to vote on the 5 removed maps, which were Dangerous Roads, Secret Base, Atlantis, Science Lab, and Aztec Temple. This is what they said (revised):
"A small surprise for all fans of Pixel Gun!
We've selected the most interesting maps, which for various reasons, are removed from the game, and decided to ask you: which one is the first to return back into the world of Pixel Gun?
In order to vote, put "Like" on your favorite map in the album below.
#MakePixelGunGreatAgain"
One of the maps shown will most likely be returning to Pixel Gun 3D. Most, if not all maps will make a return later in the future.
June 3rd, 2018
On June 3rd, Cubic.Games inquired the community on how they thought of the clan system, and whether they could fortify it. They announced:
"The clan is a team of friends who are close in spirit, and playing with friends is always more interesting!

Let's fantasize together how to make the clan system better: what to add, and what to change?
Or maybe you just want to tell others about your clan? Write your suggestions, let's talk!
#MakePixelGunGreatAgain"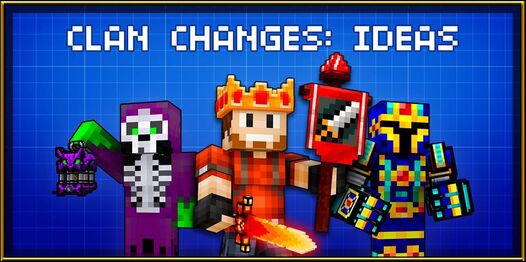 If one were to look at the Facebook page, many players requested for a better hierarchical system, as the clan system now is extremely imperial, only one person, the Clan Leader, has absolute power over the clan and other clanmates have no say. If the leader were to quit the game or other mishaps occur which hinder him from playing Pixel Gun 3D, then the clan would doomed to a failure and the fort machine would grind to a halt. As such, many proposals include, more ranks (Co-leader, Officer etc.).
Another request is to make clan weapons easier to obtain, as more rarer parts are nearly impossible to get without having to use In-App Purchases. Players have also requested to nerf OP clan weapons such as the Black Mamba.
June 13th, 2018
On June 13th, 2018, Cubic.Games posted a message to the community on the overall map in Battle Royale. This is what they said:
"Many of you have already played Battle Royale and explore the whole map along and across. You often wrote that it should be made more spacious, so that you have more tactical capabilities. Well, we heard you! In the next BIG update we will show you a huge new map for the Battle Royale mode!

Do you wonder how big it will be? Look at the picture below. A highlighted area is a map on which you played before. And the entire darkened zone is a giant battlefield that will appear in Pixel Gun very very soon! This is not all the surprises that are waiting for you in the update. Closely follow the news and wait for new announcements!"
From what they said, many people requested a larger map into Battle Royale. The map shown is noticeably more larger than the current map, and the broken bridge connecting to the large map allows the player to access the map. Additionally, Cubic.Games announced that more surprises are coming back.
July 18th, 2018
On July 18, 2018, Pixel Gun informed the players about the long-awaited 4th campaign, as well as more stuff that will be given to us in the future. This is what they said:
"In recent months, there has been so many new in Pixel Gun that it's not easy to follow all the changes. In this post, we want to once again remind about the important events of spring and summer, as well as talk about the upcoming novelty.

In May, we had a revolution in our office. We said goodbye to the managers responsible for all the latest changes that destroyed the game balance, and together with you planned what should be changed in Pixel Gun.

A month later we launched in the beta Battle Royale for 30 players, and a week ago we increased the game map 16 times!

At the same time, we constantly add to the game important corrections. Bend your fingers: pets system and weapon upgrade were returned to the old version, we added an opportunity for clan members to play in any mode together, returned the Sniper Tournament.

Our nearest plans are even more grandiose! New mini-games and events, transport for the Royal Battle, building, new tournaments, gadgets, the balance of weapons, more bonuses for clan members, a completely redesigned Siege mode, cross-platform system, optimization for weak devices. And many more things (we just don't have enough space in the post to write everything).
And don't think that we forgot about the fourth chapter of the Campaign! This is the second most important task after the Royal Battle, over which we are now working. A few spoilers:

it will be cool;
 
conquering the Internet can be done in the company of friends!
 
#MakePixelGunGreatAgain"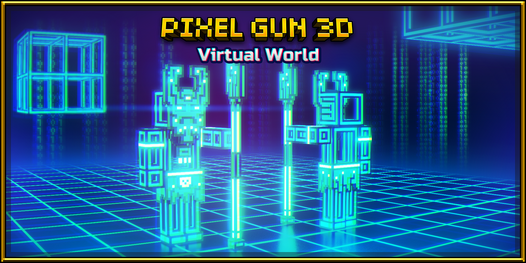 According to this, the 4th campaign is going to be called "Virtual World". Additionally, they also said that they will bring everything they promised in the game as well as adding in more stuff, including new mini-games, gadgets, building, the change of Siege and so much more.
July 26th, 2018
On July 26, 2018, Cubic.Games posted a short message to the community talking about homing weapons and overpowered weapons and items in the game. This is what they said:
"Community, tell us what to do with homing weapons? Should we entirely delete them from the game and pay the compensation to everyone who bought them?
Smart Bullet Bazooka, Bee Swarm Spell, Swarmer, Nanobots Rifle, Judge, and Resurrection. Delete them from the game? Write in comments. #MakePixelGunGreatAgain"
From what they said, They want the game to have skill-based weapons instead of using homing weapons like the Nanobots Rifle and the Smart Bullet Bazooka. They are also considering removing certain powerful items like the Resurrection. Resurrection is an OP gadget that many players have equipped. If they remove those, they would compensate by giving things to players who bought them to be fair. Later, in the 15.2.0 update, they did remove all the homing weapons (except the Dual Cryo Pistols), the Judge, and the Resurrection.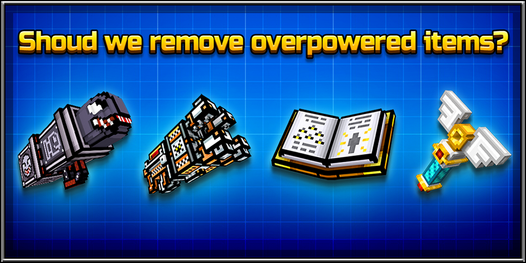 December 3rd, 2018
Pixel gun lead designer Anton has posted an "important message" regarding some problems of the game and the Anti-Cheat System. This has been the first post since July.
The Post: (revised)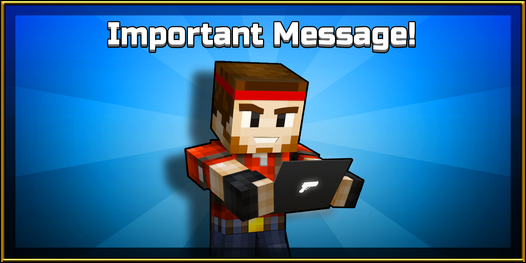 "Hi, pixel gunners!
My name is Anton and I'm the lead game designer at Pixel Gun 3D. I've put down a very long letter. If you manage to read it 'till the end and even leave below a comment that won't hurt too much, I will be surprised and very grateful.
Pixel Gun 3D is facing several serious problems. Each single one of them is actually a big theme by itself and if you are interested, I'm planning to cover them all in my upcoming posts.
The problems are:  
Cheaters
The game takes up too much space
The game sync not functionally well
Lagging
4th campaign box has not been introduced
Updates don't bring anything new
The game is turning pay-to-win
A lot of guns require weapon parts
Unbalanced matchmaking
The game is not balanced
No tech support for players
We are not responding to our community
[The game] was better with old physics, it was better without pets, it was better without gems, it was better without gadgets, it was better without battle royale, it was better without battle pass...
And more...
Problem number 1: Cheaters.
We as a company is often referred to as corporation, even though Pixel Gun 3D is done by a very small indie-team. We don't have a huge office with 300 people, just like other companies you compare us to. (Epic Games, Blizzard Entertainment, Valve, Supercell, etc.) We are 26 people. Yep. That's all. The core part of the game was written by 4 people. We are a small team that has never produced games before. We had zero experience in game design before Pixel Gun 3D. We've probably did all the mistakes you can possibly make while building a game.
Our problem with cheaters comes as result of one of those mistakes. At the very beginning we've chosen a wrong architecture. Due to that architecture it was impossible for us to fight cheaters for a very long time. It was bearable when cheaters were just adding coins and gems. But this summer new cheats started breaking the core gameplay; allowed to walk through walls, making players invincible, and etc. [He was probably referring to the hacks on autoskillz.net] This was a scary challenge for us. You are saying Pixel Gun 3D is dying? Well, it almost died this summer and you didn't even notice.
First, we had to revive the core gameplay. We did quick fixing but we knew it was a temporary solution. So we've put all our efforts into changing the game architecture. In fact, we needed to rewrite the whole game - all 6 years of it - with, as I said before, a very small team for that scale of a project. You've all noticed that since summer we have not been introducing anything major to the game, no 4th campaign mode, no fundamentally new functions or modes. Sorry, guys, we have been a bit busy rewriting the game, and it looks like we are getting close to the finish line.
Dear pixel gunners, if we are not mistaken (we all know we can) the cheaters problem will be resolved soon. Cheaters, beware! We will ban you, you will lose all your guns, skins, levels, friends, clans… everything (evil laughs).
Jokes aside, we actually don't know what to do with those [banned] accounts: delete them for good or just take what was received through cheating. Your suggestions are welcomed in the comments. (Ok, ok, "boosting engagement rate" mode - off).
Cheaters caused a lot of other problems including lack of engagement from our side with the community. First thing you learn from PG3D community - how to hack the game. Great, right? You talk to player, share information about you project, trying to help him and next thing you see is that in the other comment section he explains how to add 500 billion coins to your account, and that developers are stupid. I have to admit that in some ways this player is right, but times are changing (evil laughs).
Anyway, I've shared with you information about cheaters problem and how we are working on fixing it. Next thing I'm planning to cover - huge amount of space game takes up on your devices. If what's written above is somewhat interesting for you guys and you will even try your best not to comment that Pixel Gun 3D is a terribly pay-to-win, I promise to continue posting and even explain pay-to-win issue as well."
This post seems like an innocent post by Cubic.Games. However, there are some interesting parts in this post. First you notice that the name of the game designer is Anton, not Alex Kransov, the presumed owner of the game. The fact that they have not created any other games were also doubtable, because Cubic.Games has made many early games such as Slendy, Bubble Duck Panic, and Mine Run 3D.
They also have considered developing browser games, but no browser game is available yet. It is also notable that Anton claimed that Cubic.Games made Pixel Gun from 2013 to now, however, Rilisoft (a Russian company) presumably sold the game to Cubic.Games (located in Cyprus).
It is possible that the game did not get sold at all, but this is highly unlikely since both the creator and the website of the game changed. Also, hackers did appear in the game, but on Android ONLY and the game was far from "dying". Finally, this post only talks about hackers. Other topics are yet to be discussed, and hopefully they will be soon. It is noticeable that this post is much more personal than the others.
December 12th, 2018
Pixel gun lead designer Anton has posted yet another "important message" regarding how the game takes up too much space.
The Post: (revised)
"Hi Pixel Gunners,
This is Anton and your weekly "Pixel Gun Roadmap" digest.
Thank you for the thousand of comments on my previous post, I read them all and managed to survive to tell the story.
Seriously though, among all those comments were some warm words of support, so thank you for those!
Today we will talk about one of the most annoying problems of the game - Pixel Gun takes way too much space!
I can't express enough how much we dislike this too. You have no idea how much this gets in the way of work. For a huge app like that we need extremely powerful and expensive computers and even then everything can get extremely laggy.
And yes, we know all too well how annoying this can be, that you often lack space during updates and have to remove the app to reinstall it again. And that there are synchronization problems which can often lead to losing your guns!
The only thing to add… thank you for playing Pixel Gun despite all our mistakes. Without you, this game wouldn't exist.
After we transition to a new architecture, we will eventually solve both of those problems.
Our plan is to make it work the same way many other games do it. First, you download the small 150 MB app from the store, then download around another 500 MB from our servers. We are really hoping to downsize to that volume. Maybe not straight away, but over time we will optimize all game resources - throw out everything that can be thrown out and compress everything that can be compressed.
The synchronization problem should also go away since your entire inventory will be stored on our servers and if you lose anything, we will be able to restore it. At the moment we don't have a physical ability to do so.
I hope to see this brave new world in January, however, things don't always go according to our plan, as you may well know.
Pixel Gunners, if the comments show continued interest in these posts, then next time I will talk about the despicable pay-to-win problem and will describe what we plan to do with it."
[Please add link here]
This post has discussed how the game takes up a large amount of space. However, not much useful information is shown and it is unknown when, if ever, or how they are going to fix this issue. They also may plan on delaying the new campaign world again. ("...however, things don't always go according to our plan, as you may well know.") In general, PG3D has not provided use with much information, and it is unknown whether they are going to make these changes.
The Revolution in 2019/Closing
Cubic.Games talks about the revolution significantly less in 2019, showing that it may have ended. The have, in fact, changed much about the game, such as making Gem-costing weapons cost Coins, banning hackers and clickbait Youtubers, making the game smaller in storage size, and making campaign world 4, however, there is still much to be improved, such as reducing the outrageous gun prices, nerfing weapons such as the Raccoon With A Pipe, dealing with Sandbox Dating, and improving the official Discord server.
World 4 is also lazily made, resulting in an almost unplayable mode. These problems indicate that the revolution is far from over and the developers need to continue to change the game for the better.
---
WARNING: The posts found above was taken directly from the official Pixel Gun 3D Facebook page. The grammar and spelling was adapted for this wiki.
Other
Pixel Gun 3D
Pixel Gun World