| | | | |
| --- | --- | --- | --- |
| | | This is removed content. It is no longer available in Pixel Gun 3D. | |

The Potion of Anti-Gravity was one of the potions used in Pixel Gun 3D. It could be purchased through the Armory for 10 Coins in the pause menu during a match.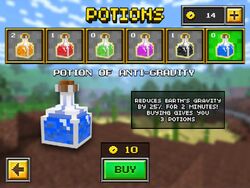 Appearance
It is a glass bottle with a blue liquid inside it which has a cap to stop the liquid from spilling.
Abilities
Reduced the game's in-game gravity by 25%. It allowed the player to jump as if they were in a zero-gravity environment. This would be completely useless in the Space Station because the player already had a 25% reduction in gravity.
Duration
The Potion of Anti-Gravity lasts for 2 minutes respectively.
Cost
The Potion of Anti-Gravity cost 10

for 3 potions.
Trivia
It was removed in the 8.2.1 update.
It resembles the Water Bottle from Minecraft.
Removed Content
Weapons
Note that the weapons listed above were completely removed from the game from every player, not just removed from the Armory or after the end of a Battle Pass season.
Maps
Wear
Gadgets/Gears/Potions
Modes
Craft Items
Achievements
Other
Pixel Gun World content