This article is

abandoned

. Due to various reasons, i.e. removal from the game, this page can/will no longer be updated.
This article describes a Pixel Gun World content. If you are looking for the same content in Pixel Gun 3D, see Skin (PG3D).
A Skin is the texture of a player without any armor, hats, etc.
Skins
The game currently offers about 75 pre-made skins for a player to choose from, if the player does not wish to make his/her own skin. So far, buying a pre-made skin will cost the player about 100 to 2500

. Some skins are exclusively obtained from the Bingo Chest.
Table: TBA
Skin Creator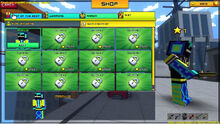 A custom skin is an option that allows a player to create his/her own skin. The skin creator does not have a cost, but however, you can create up to 12 customized skins. Each custom skin slot costs 2500

.
Trivia
Many skins are based on characters from popular movies, or video games.
2500 x 12 = 30000. So, in order to unlock all 12 custom skin slots, 30000 is acquired.
Wear
Hats
Practical
Cosmetics
Masks
Armor
Capes
Boots
Player Textures
Pixel Gun World
Armor
Hats
Capes
Boots
Player Textures