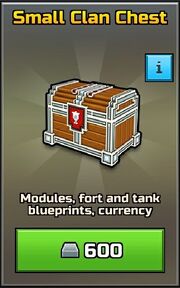 The Small Clan Chest is one of the 4 Clan Chests that can be bought using Clan Silver introduced in the 17.0.0 update.
Appearance
It appears to be a brown and wooden chest with a silver frame and a red flag symbol on the lock.
Use
It is used for receiving a small number of modules for the weapons, a small number of fort/tank objects parts and a small number of coins.
Prizes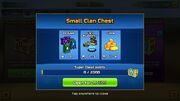 4 modules
1-3 fort/tank parts
7-8 coins
Cost
600 Clan Silver. Though, as of 17.1.1, the player receives a free Small Clan Chest every 24 hours.
Points Received
The player receives 20 points. It fills 1% of the bar to the Clan Super Chest. Therefore, it takes 100 Small Clan Chests to get to the Clan Super Chest.
Trivia
Community content is available under
CC-BY-SA
unless otherwise noted.