| | | | |
| --- | --- | --- | --- |
| | | This is removed content. It is no longer available in Pixel Gun 3D. | |
This article describes a Pixel Gun 3D gadget. If you want to see the same gadget in Pixel Gun World, see Invisibility Potion.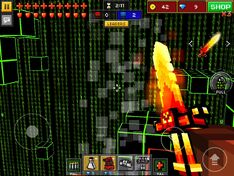 The Stealth Potion is one of the many Potions (was the only potion but got removed in 11.1.0) used in Pixel Gun 3D. It can be found randomly in a map as a pick-up.
Appearance
The bottle have a shorter neck and a triangular body like most other potions in the game. Its appearance was later changed to like the Erlenmeyer flask after 8.2.1.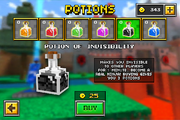 Abilities
The Stealth Potion makes a player stealthy to all players in a match. Although this potion is dubbed "invisible" in the game-play, and while you appear to be cloaked in invisibility, you have little grey dashes around you. That's why if you're in close proximity to another player, they can see you. However, using this in the dark has some downsides, because the grey dashes can be seen.
Duration
The Stealth Potion lasts for 30 seconds.
Cost
It costed 8 between the 8.0.0 and the 8.3.1 updates.
It costed 4 between the 9.0.0 and the 10.1.0 updates.
It became a pick-up in the 10.2.0 update, having no cost, but obtainable in matches.
In the 11.1.0 update, it is replaced with a gadget that provides a similar effect; the Stealth Bracelet.
Trivia
It was the only potion kept in the Christmas update.
It was previously called "Potion of Invisibility'.

The name was changed due to the fact that you are not completely invisible when using this potion.

In the 10.2.0 update, this gear became a pick-up along with the other gear items.
In the 11.1.0 update, this was removed and replaced by the Stealth Bracelet.
It is the potion that lasted the most, due to this being removed in the 11.1.0 update, 3 being removed in the 9.0.0 update and 2 being removed in the 8.0.0 update.
Removed Content
Weapons
Note that the weapons listed above were completely removed from the game from every player, not just removed from the Armory or after the end of a Battle Pass season.
Maps
Wear
Gadgets/Gears/Potions
Modes
Craft Items
Achievements
Other
Pixel Gun World content