| | | | |
| --- | --- | --- | --- |
| | | This is removed content. It is no longer available in Pixel Gun 3D. | |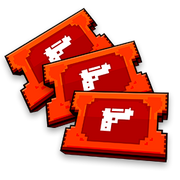 This article is about the former currency used in Minigames. To learn more about the same looking currency used in Gallery, see Coupon.
The Ticket

is a currency, or a premium item, introduced in the 12.0.0 update, and later reintroduced (as Coupon) in the 16.5.0 update.
Appearance
It appears as a ticket with red edges and a dark red circle on the center. On the circle's center, there is a white Pixel Gun decal printed on it.
Use
Its sole purpose is to allow a player to join modes requiring this, namely Minigames. The following table indicates the minigames and the tickets required. This was the latest version of the cost of the minigames before the removal of them.
However, as of 16.5.0 update, its sole purpose is to be used as an alternative of buying weapons with coins or gems. It can be used only in the Gallery.
However, as this currency was removed since the 12.5.0, where it costs (e.g. Minigames) became playable for free.
Obtaining
Tickets were found in the Lucky Chest, they were also buyable for

and were obtainable by watching an ad-sponsored video in the Ticket Booth. Players would get free tickets within and every 4 hours.

It was also obtainable via the Mailbox device, which was also removed because of the removal of Tickets.
Trivia
It's seemingly the only item acts as a prerequisite for a trial in a mode.

It also vaguely recalls the former, unlockable Premium maps.

This is the third currency introduced into Pixel Gun 3D.
Some people started with 10 tickets, while others started with 300.

In the 12.0.1 update, it got reduced from 300 to 100.

As of the 12.5.0, this currency was removed, because many players disliked them.