Hello Peoples
My name is B.A.D. BOSS! I am a sucky 3-cat spammer. I literally have no idea how to make a cool user page, but ill just explain who I am and why I exist.
I have a cool story about me and Pixel Gun 3D, but its soooooo long. Maybe ill make write my whole pg3d story one day.
Oh yeah, and I like derps :)
Court of Derps
I am the leader of the clan, Court of Derps. We are the (current) best clan on this wiki. We are a private clan though, so I will only accept mid to high level active players.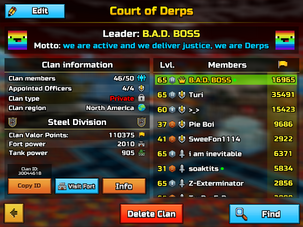 If you can't read it because it is small, the fort power is about 4500, the tank power is about 1500 and the clan id is 30044618.
(this photo is outdated, we are really in golden league)
The Story
So I built this clan from nothing, ground up, no one to help. One day I was bored and I decided I wanted to make a clan. I had no friends to join with me, and I wasn't active on the wiki so I had no one to help me. I had maybe 4000 silver, so I used it on a medium clan chest and some small clan chests. The name "Court of Derps" was inspired from a movie I watched recently at the time, a Batman vs Robin animated movie, where the main antagonist was part of the "Court of Owls". Luckily, a few inactive people joined and I was able to start a clan war. We crushed wooden league (sorry, I crushed wooden league) but iron league kicked me right back into wooden league. This went on for a while, our fort and tank got stronger, until we finally beat iron league (sorry, me and one other guy beat iron league) and we advanced into golden league, where again, we got our butts kicked back into iron league. At this time, I was more active on the wiki, and people from the wiki started to notice me and noticed I had a clan. My clan still sucked then, but we got our first wiki member to join, Galaxy PX YT! Then, things went up, more and more wiki members joined, the fort and tank got stronger, we beat golden league, and...now we are here. And I only plan on going up!
My loadout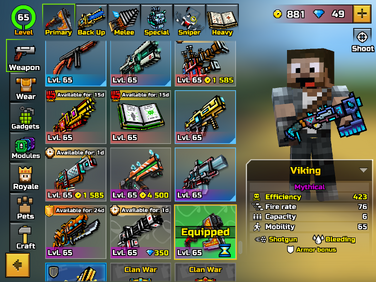 Primary: Viking, Potato Implant, Golden Bros, Lancelot, Cyborg Hands, Transformed Machine Gun, Project "Dolphin".
Backup: Exterminator, Dual Anger, Laser Cycler, Pulling Sucker Gun, Project "Rapid Flock"
Melee: Good and Evil, Super Drill, Healing Staff, Heroic Epee, Cthulhu Legacy, Gold Fever.
Special: Necklace of the Ice King, Laser Bouncer, Gravitator, Poseidon Trident, Mordred, Cursed Pirate, Deadly Digital System, Witch Broom Portable Death Moonm, B.E.A.S.T, Vertical Grip Device
Sniper: Mr. Squido, Masterpiece Musket, Eva, Alien Sniper Rifle, Sniper Exoskeleton, Project "Marlin", Heavy Sniper Rifle.
Heavy: Earth Spike Spell, Heart of Volcano, Proton Freezer, Lance Soul Card, Dark Mage Wand, Gem Power, Christmas Ultimatum, Armadillo, Bedivere
My YouTube channel!!!
I have a YouTube channel! It is DerpAnimatez, I make Minecraft animations. It is my dream to become a Minecraft Animator in the future, so if you could subscribe that would make my day :)
https://www.youtube.com/channel/UCYxy3QeE9A9x_RAk_yAlqMA/featured?view_as=subscriber
Pg3d stats
Here's my pg3d wins, stats, and stuff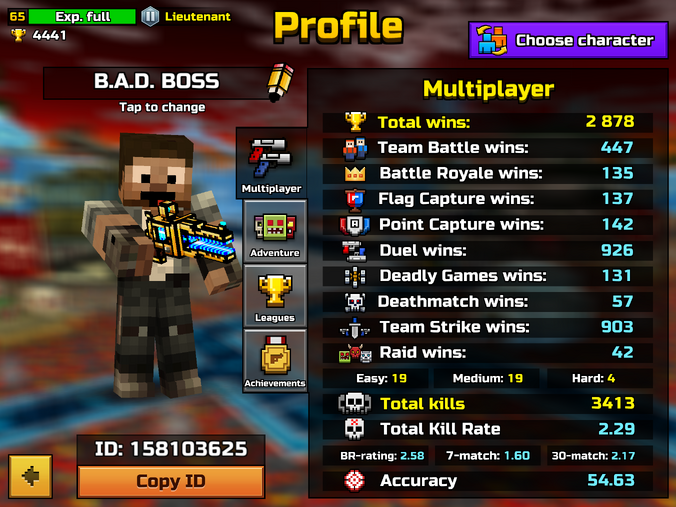 Community content is available under
CC-BY-SA
unless otherwise noted.