Hey what's up, you're looking at the infamous trouble maker of Pixel Gun 3D Wiki and Pixel Gun 3D Wiki Discord! Want to see some info about me?
Upvoted Ideas I have got In Discord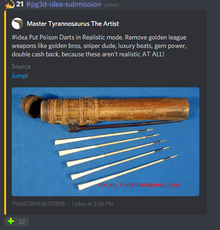 first one
Possible upvoted idea: about buffing sparkling eel to 20%.
Balance the BLOQ Plasma Module idea
I am currently In official PG3D server so I am getting new upvoted ideas.
Current Profile Picture
Fan art tallot card featuring me in it, by JackPr.

My Rank-Up Upgrades
A more updated biography of me
I am a tyrannosaurus rex that is 14 after being reborn. Sparkling Eel and Overseer are my best buddies. This is the FANDOM that I made my account on, and the one that made me introduce Discord, which very much impacted my life. I am very very active on Discord, not so much on the wiki now. If you didn't know, I am trying to go for becoming a intern and promoting to a sentinel here on this wiki. A lot of people think I am a tyrannical person but that is not true.

Community content is available under
CC-BY-SA
unless otherwise noted.