The Webcrawler is an enemy introduced in the 16.0.0 update that can be found in the Virtual World campaign level Cubic.
Appearance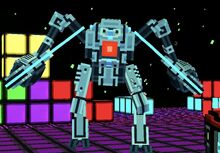 It appears to be a robot wielding two cyan-colored blades. It also has what seems to be a "core", which is a bright red. 
Behavior
The robot will walk towards you until close enough to attack. When attacking, it swings its blade dealing a fair amount of damage. Occasionally, the robot will turn invincible. It will take a similar appearance to that of a player using the Stealth Bracelet or Sword of Shadows.  
Stats
Tips 
When fighting this enemy stay far away and strafe around it.
Take out other enemies before fighting this one. 
Get on top of barriers or walls where this monster cannot reach you, and attack them with a ranged weapon. 
Use the BIG DATA when attacking this enemy. 
Enemies

Enemies
Bosses

= Complete

Category page
Community content is available under
CC-BY-SA
unless otherwise noted.